Christmas is right around the corner and we love to shop local!!  Whether they are self-made or sell products to earn income for their households, they don't run major corporations.  Most of these people's income will be going for Christmas presents, bills, or any family need.  You Saved How Much  reached out to some of these people to tell us about their business information so you, the readers, can help support these local people.  Here is a list of 13 small business/shop local folks you can support this holiday season:
Younique by Rachele Lantz
Younique is known for the high quality, hypoallergenic products.  Millions around the world use Younique to help clear their skin, hide their skin conditions and feel positive about themselves through cosmetics.  Rachele is a wife, mother of two and is brilliant at doing makeup tutorials.  I often find myself now and then popping in and watching her techniques to improve contouring, mixing bold eye shadows, or doing those brows!! Sometimes those products might seem pricey, but don't worry, Rachele does VIP Flash Sales on her page to help you save on the products you love!  In addition to her flash sales, you can catch her giveaways too!  She is currently doing TWO giveaways that you can enter today!
You can join her Facebook Page here or order from her directly!
The Art of Carrie Dodson Young
Carrie does customized art & wood burning.  She does many custom orders and her pieces are beautiful.  Her customized items are wood burning, portraits, and all things art!  Carrie is a mother and wife also who talented in the wood burning craft.
You can view her Facebook page here to see her work.  Message her with a special order today!!
Pink Zebra–Katrina Sheeder
Katrina is a wife, mom of three, and a recent grandma!  She sells Pink Zebra while tending to her families needs!    Pink Zebra has wax melts of many different scents that can mixed up for various scents.  You can purchase a warmer too for your scents or create your own candle!  I have personal used Pink Zebra from her and my house always smells wonderful with the recipes of mixtures you can make!  The image above is one that I did and my upstairs smells delicious!
Right now, she is currently having  a flash sale of 15% off selected products!! Check it out today!
You can check out her Pink Zebra Facebook Page here  or skip talking to the representative and check out her webpage page here!
Made With Love By Nana
Made With Love By Nana is made by Doreen Blair, a Nana of two.  She created her hobby when her granddaughter became fascinated by hairbows.  Not only does she do a variety of hairbows, she makes key fobs (of almost any NFL team) and is working on dog collars, leashes, and other items for 2018!  So place your custom orders today!
You can visit her Facebook page here.
DoTerra Essentials by Janet Younker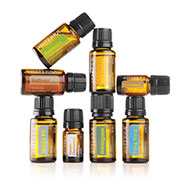 DoTerra Essentials is pure essential oils for the families.  You can check out their extensive list of items they sell on Janet's website!!  They even have a Holiday Collection  page for Christmas Gift Ideas!!  In addition, contact Janet and find out how to watch their live newsfeed on the benefits of using DoTerra!
Chicken Scratch Signs by Char
Char is an incredibly gifted person that makes some great signs!! I often see her a vendor shows and chuckle at some of these amazing ones.  She also takes custom orders if you're interested in a sign for holidays!
Char's Facebook Page today!  Check it out and place an order today!!
Paparazzi by Sharlean
Sharlean is a mother who sells Paparazzi.  They are the $5 jewelry that makes fashion statement after statement!  she has a stellar collection that is up for grabs and ready for the holiday season!  She has a Facebook group, which she does live sales and shows off other jewelry she has or you can directly order from her website.
Join the Facebook Group Here   or  Order straight from her website!
Karissa's Hair Hut
I love Karissa!!  She not only does mine and kid's hair cut, she makes it fun!  Her prices are great too!  Her cuts and coloring comes with the shampoo & conditioner, not extra like most places.  In addition, her kid's cuts are the prices of your kids age unless they hit the regular price mark!   She is located in Everett, PA.
Check out her Facebook Page here and schedule an appointment today!
Tupperware by Lacreista
Oh my goodness!! My grandma would have Tupperware Parties back in the day and I still have some of her stuff!! Tupperware is still around!  This mother of two is a representative for the company.  Get some cool kitchen gadgets for yourself or someone on your Christmas list with this place.  She wants you to know that this weekend, she will be having a personal sale happening.  So tune in and save money!
You can view her website here   or her Facebook Page.
Xpressive Life by Rosanna
This is a newer to me page, but it looks fabulous and something I will mostly like order off of!  This place has it all…leggings, bath bombs, makeup, bags, and so much more!! I am just tipping the iceberg here!  Rose is a young woman who sells this for that extra income we all strive for!
Some of my personal favorite finds are the homemade soaps!!  I love my skin feeling great!  Check out her website today!
You Saved How Much
I wouldn't be complete if I didn't add myself to this list!!  I am a mom of two who does this couponing/bargain hunting/hobby or whatever you call it for a living!!  You can learn about me here (if you're interested)!  However, many wonder how exactly can I help you?  It's simple really and it usual doesn't cost you anything.  Here are a few ways:
Printing a coupon that saves you money adds a few cents to me!  When redeeming that coupon, I get a few more extra cents!!  That simple!  It's crazy to believe that me helping you save money helps me earn a few pennies!
That's right! I might make a few pennies, but it's a few pennies more than before!  Signing up for a free sample, magazine subscription, or anything free helps add those cents towards my kids, bills, or anything else!
It is the Christmas season and we are looking for those perfect presents at amazing prices!! Click above and check out our Christmas Gift Ideas section to help you save a ton of money while getting that gift for someone on your list!
You can also support me simply by liking our Facebook Page and coming back everyday to find yourself saving money in many ways!
---