It is two weeks until Christmas!!  If you are like me, there still isn't enough months in the year to figure out what everyone on my list wants for Christmas.  However, being last minute doesn't mean paying full price!   We found some great sales and deals online!!  We looked hard to find various gifts for whomever is on your list. Here our 2016 list of 20 Deals for Under $20.00:
1.  5 Piece Gift Set + Another Item =$5.95 Shipped at e.l.f. Cosmetics
While supplies last: Free 5-piece gift with any purchase! Use code LOYALFREE at checkout. Valid through 12/31.
We found a hot, Hot, HOT deal for any makeup lover at e.l.f.  Cosmetics!!  Perfect for Christmas.  You score a free $10.00 5-Piece Gift Set ($10) when a purchase of ANY item.  So here is how to score this for only $5.95!!
Find a $1.00 item on the site & add it to the cart
Head to checkout
Enter in the promo code: LOYALFREE and click Apply.
The 5-Piece deal will appear
It will show shipping for $4.95 + $1.00 item= $5.95!!
2. Star Wars LEGO'S (Or any LEGO'S)
I have a son that is turning 11 soon and he is HARD to buy for.  His interests you ask?  Minecraft, Star Wars, and LEGO's.  Truth–most boys LOVE Lego's.  Especially now that they have LEGO kits for EVERYTHING!!  Amazon has an amazing selection of LEGO's including this Darth Vader LEGO set.  This set is on sale for $19.19–a $10.00 savings!  This cuts close to the $20.00 budget, but is worth every penny for that hard to get toy!
Check out other LEGO items HERE for better ideas!
Shipping is free with Amazon Prime!
3. Score Some Wine From WineGlobe.com
Get some wine for under $20 at WineGlobe.com.  You can shop Shop Shiraz Wines
or maybe some Shop Zinfandel Wines
as well as some other wines.  If you have a wine lover on your list, you can't go wrong here!  The wine pictured about is only $18.99.  We found some even cheaper than that too!
Have a little girl that LOVES hairbows and hair accessories?  You should checkout Made With Love By Nana.  She has a Facebook Page & a Facebook Store.  She even does custom orders!!  All her items are $7.00 and under (wayyyy under our $20 budget).  In addition, orders over $30 qualify for free shipping!!  Check out her STORE HERE!!   Like her page HERE!
5.  2017 Custom Photo Wall Calendar–Under $11 Shipped!
2017 Custom Photo Wall Calendar – Only $4.99 – Save $15!
I love unique items!!  Score a personalized 2017 Custom Photo Wall Calendar for $4.99 using the promo code CAL2017.  These are regularly $15.00.  This deal is only valid to new York Photo users and is a limit of one.  The standard shipping is $5.99, which will make this under $11.00 to ship!!  It's under our budget and one-of-a-kind!
6. Heart Lane Fashions!
Do you love LuLaRoe?  We found a site that has the EXACT same fabric and feel for LESS!!  A pair a LuLaRoe leggings for Adults usually cost $25.00.  You will find them here for as low as $10.00!!  Have kids?  Instead of paying $23, you will pay only $7.00!  Same quality, bigger savings!! They have more than just leggings too!
7. Free Eskimo Hat
Whether it's for an adult (male or female) or a child, you can score a free Faux Fur Hat buy using the promo code: ENBABY.  The shipping, however, feels like a pricey amount at as low as $12.99. On the plus side, these hats are $35 in price, still making this a pretty sweet deal with the shipping charge.  These hats are available in all sizes too!
This is a local business that is adorable!!  On her website, you score free shipping on EVERYTHING!!  She makes jewelry, keychains, bath bombs, bubble bath, and other natural products, among other things.  Her bath bombs, which my kids love, are only $5.50!!  Check out the complete Tatum's Only website here!
9.  My Little Pony–Pinkie Pie Row & Ride Swan Boat
Do you have a My Little Pony Lover on your list?  Look no further than Amazon!!  Right NOW you can get the Pinkie Pie Row & Rite Swan Boat for only $7.92!!!  This is usually $19.99–a 62% savings!!  If you have Amazon Prime it is FREE two-day shipping or else you will have a shipping charge.  You can also get 30-Day free trial of Amazon Prime too!!  Just cancel before the 30 Days are up!
10. Today Only–50% off Contigo Mugs

Check out the Contigo 20-Ounce Autoseal West Loop Stainless Steel Travel Mug with an Easy-Clean Lid for just $12.99–normally $25.82. This is the lowest price ever offered at Amazon. Choose from three color options: black, latte, stainless steel or violet. Blue is already sold out, so don't wait!
11. Russell Stover's Chocolate
Nothing is sweeter than a box of chocolates!!  Right now, Russell Stover's has their 12 Days of Christmas Deals happening until 12/16.  Check back daily for their amazing deals to help lower your pocket price, but satisfy the sweet tooth on your list!
The assortment pictured about is priced at $9.99 before any discounts!!  Sweetness!!
12. Personalized Ornament
i See Me has a ton of personalized items from books, stickers, placemats, ornaments, and other items.  To stick to are under $20 budget, we found these adorable personalized Christmas Ornaments for $9.99!!  These are too cute and they have a selection for you to choose from too!!  Check out the website here and Personalized Gift Sets at ISeeMe!
!
13. Don't Forget the Pets!!
Don't forget about our pets that are family to us!!   Petco and PetSmart
has some of the best deals and gifts online!!  Start shopping and saving!!
14. Free Magazine Subscriptions!
Sayyy what?!  Yes, 100% free (and the price is right)!!  Check out today's freebie roundup and score a free magazine subscription for a friend or family member.  All you do is fill out the form.  No credit card information or commitments for future subscriptions required.  It's that easy, free, and an extra $20 in your pocket while crossing a name off your list!
15. Mega Bloks Minions Supervillian Jet
Amazon has the Mega Bloks Minions Supervillain Jet on sale for $12.78, reg. $44.99, that's 72% Off!
Get Free Shipping with Amazon Prime.Not an Amazon Prime Member? What are you waiting for! Sign up for a FREE Trial of Prime
16.  Kid's Clothing
This week only, Target has Kid's Clothing at buy one, get one 50% off.  We found plenty of clothes around the $10.00 mark!  Buy two, pay $15.00!!  If you have multiple children to buy for, when you hit the $25 mark, you score FREE SHIPPING!  Remember though, this deal is valid until 12/17!!
17. Jelly Belly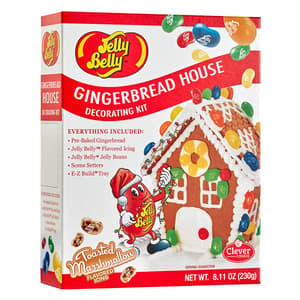 Create some Sweet & FUN Christmas Cheer with Gingerbread Houses that are Uniquely Jelly Belly – Limited quantities – Shop Now!
Make the holidays sweet with Jelly Belly!! They have a bunch of sweet treats for gifts, including Gingerbread houses.  Jelly Belly Gingerbread House Decorating Kit will make a perfect holiday decor. Kids and adults, will enjoy this tasty and delightful craft project this season.  The one pictured above is only for $4.24!!  Sweet and Cheap!
18. Possibly Score A Free Christmas Gift at Lane Bryant
I broke my rule a little and did an in-store deal…but this is a possible FREE deal for someone on your list!! Text MOBILE to 23705 to get a code good for $10 off ANY Lane Bryant in-store purchase! No minimum purchase required! The $10 off code should score you some free or super cheap items!
Valid December 12-16th.
NOTE: If you're a current subscriber you'll need to text message STOP to 23705 and then send the text message above.
19. Barbie Kiss & Care Pet Doctor Set
20.  Gift Cards
When all else fails, gift cards is the way to go!!  Check out places like Rite Aid (who took a week off this week), CVS, and Walgreens that offers rewards with a gift card purchase.  Check your local flier before Christmas for one!! Also check out grocery stores like Weis and Giant Eagle that offer gas points for gift card purchases!!  In addition, selected restaurants and stores are offering bonus gift cards with a purchase for the holiday season!  You can't go wrong with this!
We hope you found our 20 Christmas Gift Ideas useful!!  I know #20 has pulled me out of the, "I don't know what to ggggeeettt" mode!  Merry Christmas and Happy Savings!
---